Evolution Travel's newest CRS is online: a useful tool designed to give a boost to the online travel sales business. We presented it in spring and it is now operational.
The design process of Evolution Travel's new and powerful Booking Engine has reached its final stage and it's ready to be released. We had already talked about it in spring, exactly during the lockdown.
Even during these uncertain times, Evolution Travel's back office never stopped working on this ambitious new project.
Today, the CRS is ready, functional and up and running.
Developed by internal designers and entirely customised to meet the needs of online travel consultants, this tool is finally available.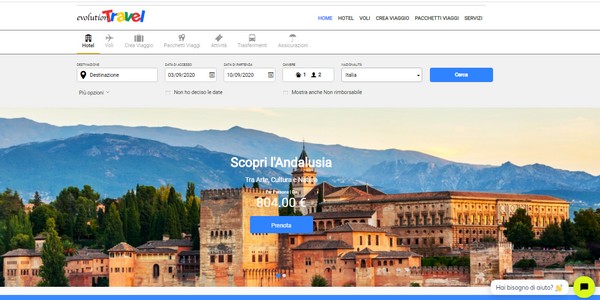 A world of possibilities for Online Travel Consultants with the new CRS
A CRS (Computer Reservation System) is an easy-to-use search and booking system which allows complex operations, thanks to the use of XML flows of connected vendors.
How will it help the job of online travel consultants in their everyday tasks?
Below is a list of its advantages.
Many new tourist products become available: hotel offers, air ticketing systems and services, excursions and transfers managed by the product programming department in larger volume than in the past;
some of the cheapest internet rates on the market: 9 times out of 10, the system offers better quotes, meaning reduced costs for the end customer and increased income for the Online Travel Consultant;
easy and quick to use: the CRS allows you to compare different rates and solutions in just a few seconds, obtaining a complete and practical overview of the options that you can offer to the customer.
The virtual office and the technological dashboard available to each online travel consultant are further enhanced. This way, it becomes easier for online travel consultants to select the best solutions for their customers and sales become more profitable with better earnings.
Innovative aspects of Evolution Travel's CRS
The advantages of Evolution Travel's CRS do not end here: selected travel agencies can also request to use it. They will have their own access to the system.
Opening up the use of the system also to travel agencies will result in better sales opportunities for the products developed by Evolution Travel's Tour Operators, with attractive dynamic packaging deals.
Carmine Di Meo, head of product programming and project manager, explained: "Considering the quite complex and unprecedented situation that we are experiencing and that has affected the entire tourist industry, we are extremely proud to finally announce the launch of this highly effective tool. It is something we really care about. We continued working to complete it, despite the huge economic and design resources it required: promoting high-tech innovation at the service of the tourism industry is, in fact, an intrinsic characteristic of Evolution Travel's business model and this step had to be taken".
Once again, Evolution Travel reaffirms its highly dynamic foresight, necessary to operate in the tourism industry and understand the mechanics of networking.
New features and sections will be introduced soon to allow the No.1 Network of Online Travel Consultants to continue offering only the best to its travel customers.
By Stefania Bochicchio