Evolution Travel presents its new product, "Trekking Routes", dedicated to all trekking enthusiasts who want to enjoy the world's most famous mountains in complete safety. We talked about it with Bruno Bottaro, an online travel consultant specialised in Trekking holidays.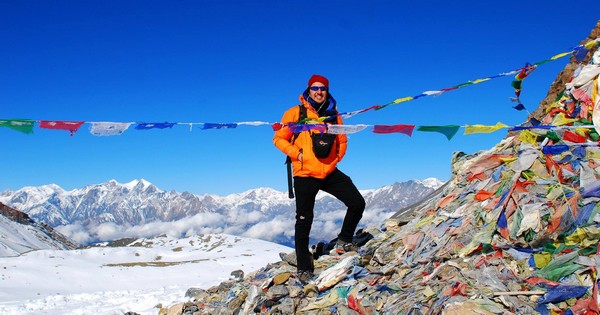 Today, a new product increases the range of travel destinations and products offered by Evolution Travel: we present you the Trekking Routes portal.
Though, it is not something completely new: Online travel consultant and tour operator Bruno Bottaro – who is responsible for this new product – had already organised in the past routes and trips to Mount Everest, the Himalayas and other mountains.
In the last years, however, the number of demanding hikers has constantly grown.
Therefore, we had the idea of creating a "place" where all our travellers could find what they need to realise their dreams of walking on the world's most imposing peaks!
What makes Evolution Travel's Trekking Routes stand out from the products offered by the other operators?
Bruno Bottaro, online travel consultant and tour operator specialised in Trekking holidays, has summarised here the special features of Evolution Travel's range of products for Trekking enthusiasts:
"The first aspect I would like to mention is the possibility of personalising your hikes as much as you like.
Our goal is to satisfy the needs of each single Trekking enthusiast and this means – among other things – to also offer the opportunity of travelling alone without having to join a group of people you do not know.
Also, another important aspect that I would like to point out is that we personally know the expert guides that will accompany our travellers.
I have been trekking for 30 years and I have had the amazing opportunity of meeting extraordinary guides. Over the years, we have learnt to value, trust and rely on their professionalism and expertise.
For this reason, today, we know which suppliers to choose in order to leave our customers in good hands".
The technical-tourism creation of the Trekking Routes product is further proof of Evolution Travel's quality and its 20 years of experience in the online travel industry: also in this case, the expertise of its highly specialised Travel Consultants proved to be fundamental.
It is their in-depth knowledge and first-hand experience of places and services which allows the company to offer an excellent level of tourism products.
Anywhere in the world, at high altitude!
Bruno Bottaro, with experience as a tour promoter for India, Nepal, Tibet, Bhutan, Sri Lanka, Seychelles and Southeast Asia, was able to put both his vast knowledge of the destinations he visited and his passion for trekking to good use.
Argentina, Bhutan, India, Mongolia, Pakistan, Tajikistan, Tanzania, Tibet and Turkey: these are only some of the destinations offered with trails of different levels of difficulty.
"We decided to focus only on some specific destinations to target travellers who are very passionate and want to discover new places that are far from the most popular destinations, but also those who are looking for new experiences and want to try something they have never done before", said Bottaro.
So, our current range of products – which will be further expanded in the coming weeks – includes challenging treks at more than 5000 metres of altitude, but also trails suitable for less experienced hikers.
Great Trekking experiences guaranteed by Evolution Travel
"Having great knowledge of the destinations we promote is the guarantee we offer when organising a trip, and in the context of trekking in remote destinations, this a very decisive factor", concluded Bruno Bottaro.
For travellers: guarantee of safety.
For the network of online Travel Consultants: the certainty of being able to accompany their customers to the peaks of the world's highest mountains with the "supervision" of a knowledgeable expert guide and Evolution Travel's assistance.
By Stefania Bochicchio