Here we are, just back from Barcelona's 2019 Convention. An extraordinary event full of training, meetings, happiness, harmony. As always, the people in our Network gathered with great enthusiasm for the most important event of the year!
Training: good, intense, useful.
Smiles: warm, sincere, humane.
The slightly timid behaviour of the Consultants attending their first Convention.
The arrival of our senior colleagues during the heavy rainfall which hit Barcelona for hours on Saturday 21 September.
We were all there: the day of our long awaited Convention arrived!
Quickly, the hall of the Barceló Sants became full of people: some Consultants even arrived an hour and a quarter before the official start time.
We know that it can only mean one thing: great expectations, positive energy, a strong desire to learn and to be there!
A glorious start despite the bad weather!
And then exactly at 9 o'clock, Luca Baldisserotto, Evolution Travel's co-founder, greeted everyone and started the event. A day full of many interesting ideas and concepts that time flew!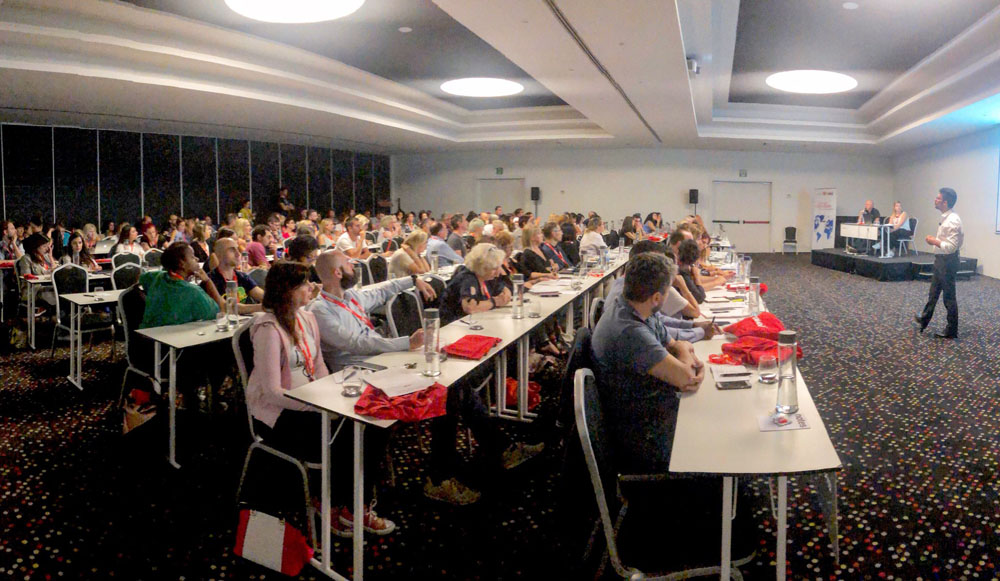 The topics of the 2019 Convention
This year, the training focused on technical and tourism subjects:
– Fabio Zinanni, a very competent and expert trainer, introduced the topic of airline companies operations and then invited Consultants to put this theory into practice as soon as possible;
– Carmine Di Meo, manager of Evolution Travel's Product Planning Department, explained the advantage of being part of a buying group;
– Roberta Graziani, a digital and social media tourism teacher with thirty years of experience in the travel sector, explained how social media has affected today's ideas of a holiday: from bragging to top luxury, how to reach new targets;
– The Top 20: the products with the highest growth in 2018; an overview of the destinations and products which had a significant increase in order to learn from Tour Operators and Product Promoters the secret behind their success;
– Practical exercises on how to arrange a flight booking in the best way, comparing them and making the best choice for customers;
– How to create new niche markets not yet reached by OTAs;
– What's new in the world of Evolution Travel and future developments;
– Notes on tourism geography.
The experiences of the Travel Consultants enriched the debate offering all participants ideas and useful techniques to use to enhance their work efficiency.
The almost 200 Consultants who attended the event were really inspired as they absorbed new ideas and knowledge: even after a whole day spent together, nobody wanted to leave!
This is the core of Evolution Travel: collaboration between colleagues; a model based on everyone's contribution; allowing each other to really grow thanks to practical examples without the need of abstract concepts.
The Network helps 👉 👉 👉 the consultants grow 👉 👉 👉 the clients are happy.
A WIN-WIN result for everyone.
An amazing gala dinner!
The Convention continued: at Evolution Travel, we believe that there cannot be training without gathering, having fun and being happy and finally being all together!
So, while a delicious Catalan dinner was served, we got to one of the most anticipated moments: the awarding of the Oscars!
New host this year: the Consultant Emilio Zanetti was chosen to be our host and reward his colleagues!
Also: a short interview to each "winner" to learn what made the difference in their work, what strategies they used to improve and how this way they also increased their earnings.
A sincere and open dialogue with the audience who had the opportunity to receive valuable tips. All this knowledge will have to "settle in our minds" for a few days before we can absorb it: if we put into practice everything we learnt during the Convention, the results will surely come!
There was also time to for a toast, to dance, to take group photos with our wonderful Tour Operators and Product Promoters.
Not forgetting Group, Line and Area Reference Promoters: their role within the company is very valuable to the Consultants!
Before saying goodbye, I am going to reveal the location of the next Convention: see you in Riccione in September 2020!
By Stefania Bochicchio