We came back from ETF2019 greatly enriched: with new knowledge, energy and tools to work better and to grow, especially as people with a passion. Now, we are going to tell you about our experience at the event, what it meant for us and why this training weekend was so special.
2 and 3 march 2019: two smart and intense days to acquire new knowledge and effective techniques to improve and grow as an online Travel Consultant.
Our experience at the Evolution Travel Formula 2019 event is something which we will never forget due to the incredible atmosphere of those two days.
Within the conference rooms and the corridors of the Alexander Palace Hotel in Abano Terme, we could really feel the energy become real and tangible.
It gave life to new ideas and collaborations. Handshakes, smiles, warm hugs.
Concentration, study, rigorous methodology and results.
Quickly jotted-down notes, questions from the audience, real-life experiences of how we can deal with difficulties and new challenges.
Two days which passed too quickly, offering operational models of web marketing, social media marketing, copywriting, an approach to new targets and new tools to communicate with the customer.
This marketing event, the first to be completely aimed at the figure of the online Travel Consultant, was attended by 400 people.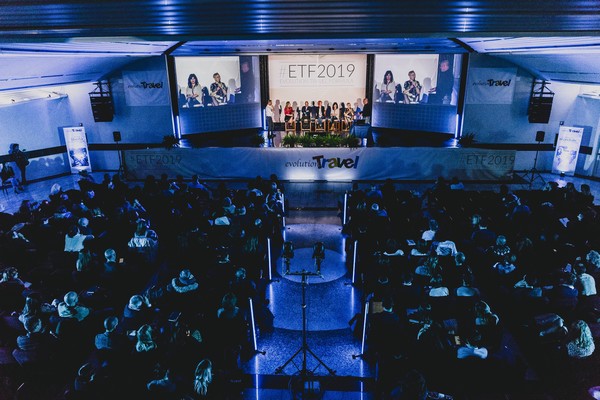 Topics at ETF2019
Through a continuous series of speeches 50% theory and 50% practice, the topics discussed were:
build a successful Facebook page which may generate requests from potential customers;
create valuable content for your Facebook and Instagram campaigns together with our specialists;
grow your Instagram profile and be followed and contacted by potential target customers;
structure your Personal Branding in synergy with that of Evolution Travel;
know the most advanced copywriting techniques to generate effective content (estimates, emails, articles, messages);
know how to manage contacts on WhatsApp, Telegram and Bot;
learn how to diversify the sales strategy according to the origin of the contact;
how to create and make the most of your personal blog;
know the people in Evolution Travel's back office from all departments, professionals who every day support the network's Consultants in their job;
know the Marketing tools and strategies which Evolution Travel makes available to Consultants to achieve maximum online visibility and increase sales;
learn about Evolution Travel's future objectives and the many new opportunities which open up to Network Consultants by technological evolution;
discover the steps which make up a winning operating model to follow to be successful in this profession;
discover the corporate values and the founding principles of Evolution Travel which have contributed to making it the best Network of online Travel Consultants.
The opportunity to exchange ideas and knowledge with web marketing professionals and other consultants who constantly obtain excellent sales results was therefore the key factor of this event.
Lots of participation also on social media
The event was also very popular on social media: Facebook and Instagram happily welcomed the experiences of those who were present.
Proof is the hashtags #evolutiontravel and #etf2019: the highlights of these two days were put together in many photos and videos.
Here you can find the official ETF2019 photo album!
An opportunity of study, work, exchange but also of joy and conviviality between colleagues and people from the back office in a blaze of images which well represent the cohesion and strength of the No. 1 network of online travel consultants!
What did we get from ETF2019?
PASSION! Even more than before!
Tools and ideas to implement a global strategy for personal branding to have a lead and results.
Practical examples of how to practise this profession applying web marketing techniques in a methodical way.
We have all come back enriched from those two days of being together and harmony.
Filled with a feeling which can be summed up quoting the thought expressed by one of the video makers who filmed the event:
"During these days we saw here 400 people, all different but all spontaneously aiming for the same goal and the same vision.
And you are all free!
You don't have any restrictions from above, you do not have a physical place to go to every day, yet you all have the same way of living this job. And you are really cool!"
And so: in complete freedom and happy to meet again, everyone left the ETF2019 event with newly acquired knowledge and greater enthusiasm.
Waiting for the next appointment which will see the participation of the No. 1 network of online travel consultants: see you in Barcelona in September for the 2019 Convention!
By Stefania Bochicchio