Increasingly more online travel advisors are capable of working with clients abroad: having a multilingual site is the key to accessing markets in Spain, France, the UK and the USA. Let's discover how.
Evolution Travel has implemented new multi-language websites for the multimarket.
This is not just a case of "simply" having a website available in English or Spanish.
In reality, the question is different: it means being able to present oneself to new markets with product programming that is assimilated for the Spanish, French, American or English-speaking client.
It is therefore a service that is already "rationalised", with offers in line with the trends that it is targeting, and price lists in relevant currencies.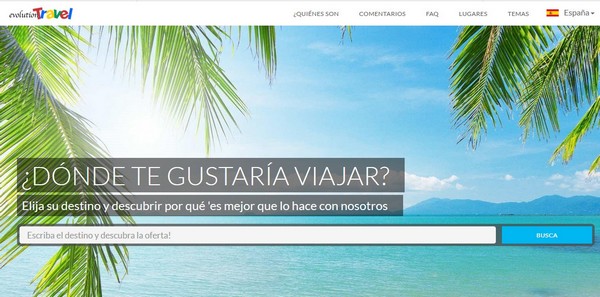 The advantages
Evolution Travel has always been online and knows that the internet has no limits: working online with Evolution Travel means having access to potentially millions of users, rather than just Italian users.
How can we "meet" them? And how can we get in contact with them?
With new multimarket websites, it is possible to provide travel solutions designed for specific markets, receiving contacts as usual and thus being able to begin working with clients abroad too.
How is a multimarket site presented?
On their own domain, the travel advisor who has activated one or more multimarket sites will notice the presence of the Italian flag and the indication "Italian" at the top, on the right hand side.
From here it is possible to open a drop-down menu with the language options chosen by the advisor.
Here is a screenshot:
Thus, with a click, you can reach the English, French, Spanish or American versions of the website.
The link (here the name of the site) can be translated, naturally based on the name chosen in Italian.
For example: vacanzeofferte.com has its "brother portals" in the following languages:
ofertas-vacaciones.com per Spagna
com per Francia
offers-holiday.net per UK
bestholiday-offers.com per USA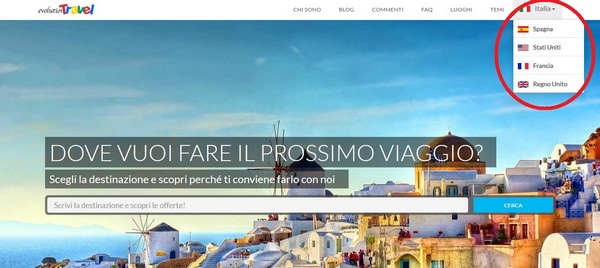 How can websites for other markets be activated?
At the moment, there is one fundamental condition for launching one's own domain destined for one of the possible markets: namely, knowing how to speak the chosen language correctly.
Deciding to offer one's own experience and professionalism to French travellers naturally entails creating a rapport with them in the French language.
Answering calls and emails speaking their language correctly: if you do not know a foreign language well, it is not advisable to improvise.
This is a very important point: if the correct dialogue between the advisor and potential client is missing, it is, of course, impossible to offer the high-level services to which we are accustomed.
If, on the other hand, you are fully familiar with a foreign language, it is possible to request activation of a new website: the Training department will ensure that this is implemented within around one week.
Today you have a real opportunity to extend your reach: take this opportunity with the new multimarket websites!
by Stefania Bochicchio