One of Evolution Travel's distinctive features is the concept of the total freedom collaborators enjoy when arranging their work.
No geographic constraints: basically, you can work from any part of the world, thanks to an internet connection and a device.
Does this apply only to Travel Consultants? No: this also applies to the entire Evolution Travel staff.
From the Marketing Department to Administration, including Booking, SEO, Product Programming, IT Technical Staff, and so on: a sprawling network made up of people who work every day, from all over the world: England, Albania, Tunisia, Vietnam, USA, Italy, Malta.
How is it possible to manage such a model without a "physical" workspace?
Evolution Travel began as an online company and it continues to expand along the lines of its initial model.
The web has facilitated people's daily lives and, in our case, it has allowed all our collaborators in various departments to choose the workplaces and schedules best suited to their needs.
The "command centres" are three companies that make up the Evolution Travel system located in UK, Malta, and USA which are connected via virtual offices:
– Skype chat;
– shared documents;
– accessible online storage systems;
– organisation and work planning tools…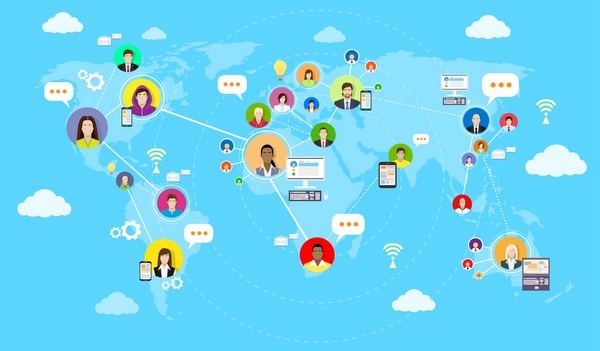 Evolution Travel is heading towards a total phasing out of emails and exchange of communications.
Does all this seem overwhelming? It is not, thanks to the use of specific applications, such as Asana, a business planning tool.
Each activity is conceived, organised, planned and shared with the interested parties, so as to "triangulate" useful references in terms of times, dates, resources to use and so on.
All this without having to send – and then read, reply, archive or delete – numerous emails.
Communication is streamlined and collaborators do not waste precious time.
With respect of everybody's time-zones and commitments, collaborators hold online meetings; e-learning and training events are carried out via live streaming and /or deferred videos; external consultancy is requested and provided; collaborators follow refresher courses.
There's professional growth … never forgetting the human aspect!
Telework can be alienating given that you do not interact with others in the flesh and because you almost always seem to be working on your own.
Evolution Travel has attempted to minimise this aspect: virtual rooms have been set up for collaborators to enjoy a chat during their coffee break.
It's a small everyday diversion that helps people to get to know each other better, to exchange pleasant words, and to share ideas not only about work but also on a personal level.
Many marriages have been celebrated "virtually" over the years; there are pregnancies where timers are counting down; jokes about profile photos; funny posts on Facebook that make everyone laugh and so on …
Why does everyone work remotely and from anywhere in the world in Evolution Travel?
Collaborators from all over the world were carefully selected for specific departments.
This is the case for Evolution Travel's technical staff, who are spread out over Italy, Vietnam and elsewhere.
Coverage was carefully evaluated in order to provide a 24-hour technical service for online Travel Consultants.
Given the different time-zones, alternating shifts give "constant surveillance" of the tech tools on the Evolution Travel platform so that any bugs or anomalies can be solved quickly.
This means that on many mornings, most consultants do not even notice the completed technical intervention because it was carried out during the night (when the sun was on the other side of the world).

In most cases, all collaborators in various departments also enjoy good flexibility with regard to timetables. Very often you can organise your activities freely, bearing in mind the overall programming indicated on Asana and in the department chats.
In this way, everyone can happily reconcile work responsibilities with personal commitments.
A highly appreciated advantage which improves overall job performance.
The satisfaction and empowerment of individuals and personalities are crucial and primary factors for the founders of Evolution Travel, as well as the freedom to work from anywhere in the world!
With this regard, the web has really knocked down all boundaries, allowing you to reap benefits from the workplace. If you love travelling and want to transform this passion into a profession, consider the opportunity of becoming self-employed: download our Guide to becoming an Online Travel Consultant!