Everything is getting ready for Evolution Travel's 2019 Convention! It's not too long now and we can't wait to be all together again! If you have not read the event schedule yet, do it now to find out about the names of the speakers and… register!
This convention will be the most important event of the year for the No. 1 Network of online travel Consultants!
There is always a lot of enthusiasm in Evolution Travel, even in the early stages of preparation: it is an opportunity to meet again, train all together, share our experiences and have great fun at the same time!
The date this year is set for Saturday 21 September in Barcelona: will you be there? We sincerely hope so!
This incredible event is exclusively reserved for online travel consultants!
Have you already reserved your place?
If you haven't done so, don't waste any more time: click here to… join us immediately!
Would you like to find out more? Here you are!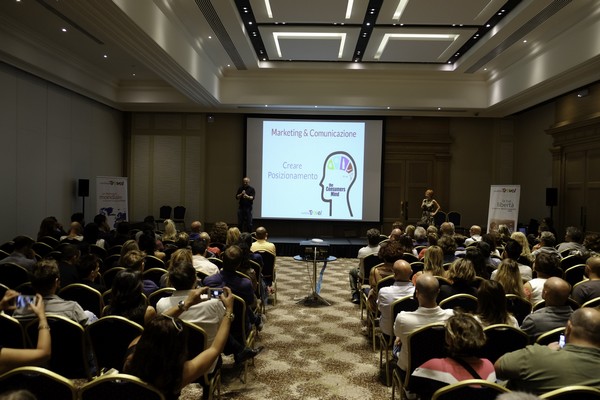 1) Training
This year our training sessions will focus on technical and tourism subjects: concepts, case studies, theory and techniques.
Each "lesson" will be conducted by highly skilled internal and external trainers.
The best part is that you will be able to immediately put into practice what you learn: everyone will work efficiently.
Put words into action!
2) Networking
Every one of us – from consultants to back-office professionals – works from home… or in any case, we don't work in the same place as the other colleagues.
Seeing all our friends at the Convention is always a great joy!
Participating for the first time means shaking hands with people you have only talked to via chat, phone or Skype.
It means being able to propose new projects to other Consultants and even managers.
In a few words, it means human contact, empathy, affinity, happiness!
You really, really have to be here!
3) Dinner and the Oscars
This year, Evolution Travel's Oscars will not be awarded after we finish our work as we normally do.
The admission fee for the Convention also includes the cost of the gala dinner! And on that occasion, we will hold the Oscar ceremony.
Want to find out who will be awarded this year?
Also, we will disclose the names of the network's new reference consultants and PRPs.
In conclusion: the host will be one of your colleagues.
A clue? Well, the most "theatrical".
Yes, exactly: Emilio Zanetti!
You really need to come!
Book your place for the 2019 Convention!
We are ready, and you? book now and… see you in Barcelona! Olè!
By Stefania Bochicchio