Understanding what is included in the Smart package and what consultants can do is an important question for many of the people who join Evolution Travel. There seems to be often confusion over what is offered by the many different companies operating in the travel industry: let's shed some light on it.
The majority of the people who would like to start selling holidays online have the same ambition: make a good living from their great passion, "accompanying" customers around the world.
Yes, we are talking about great travellers: people who love discovering new places and are always ready to pack their suitcase to reach the next destination.
Most of the time they are also very good at organising their own holidays and probably they often help friends and relatives to organise theirs.
In short, they are the typical do-it-yourself travellers with some extra skills: they are very realistic, able to analyse risks and benefits and so they can organise their holidays well without encountering any problems while travelling.
It's mostly people like them who decide to work as an Online Travel Consultant with us.
The reason is simple: they know that in Evolution Travel they will never be required to work apathetically and sell pre-arranged package holidays… unless they want to!
On the contrary: they know that they will be allowed to build piece by piece the best personalised holiday for their customer in a dynamic and tailored way.
It's what they would normally do for themselves, their friends and their family: so, they expect to be able to offer personalised solutions to anyone who needs their services.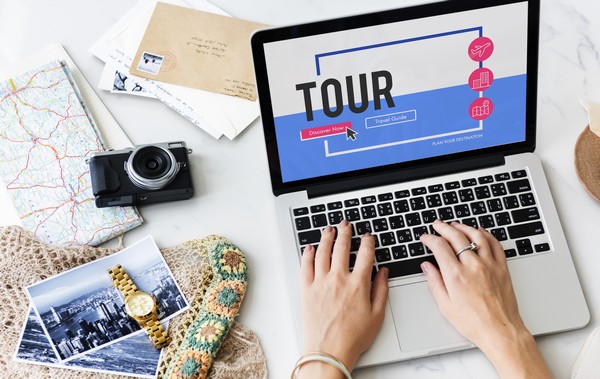 What Evolution Travel offers you
Almost every day our Recruitment department is contacted by travel consultants who say they feel like their wings have been clipped: they think that the Smart workstation doesn't allow to build personalised holidays.
That is: they think they will only be allowed to work as an intermediary.
They fear they won't have the opportunity to personalise holidays: it saddens them because their "natural instinct" would be to build a travel itinerary piece by piece for their customers. Just like they have always done for their own holidays in the past.
It's actually the opposite and we're going to explain why.
What is really the meaning of intermediating? It means selling pre–arranged package holidays created by tour operators.
But thinking that selling holidays only as an intermediary would be enough is wrong.
In Evolution Travel you can add or remove any part of a holiday, so you can organise and personalise any detail of your customer's holiday.
This is how most consultants like to work: creating unique travel solutions completely tailored to the customer's needs. This concept is of fundamental importance for Evolution Travel: customers always come first.
We listen to the travellers' questions and work to satisfy their wishes.
We are a customer–centric company and not a product-oriented one.
This is the reason that no one in Evolution Travel "pushes" towards intermediation work.
Customer satisfaction can be achieved through a pre–arranged package or a personalised solution to build piece by piece.
It is up to the Consultant to make the right decisions in each case to ensure customer satisfaction.
Therefore, even an Evolution Travel consultant who is not a Product Promoter nor a Tour Promoter can absolutely organise and sell personalised holidays, freely choosing each "piece" of a customer's holiday.
And in particular, he will be able to choose the supplier from which to buy any of the services needed.
There are of course some basic requirements to meet: let's find out.
Training is essential!
It's absolutely important to receive the necessary training to be able to do your work effectively, responsibly and competently.
So, if for some reason you thought that selling personalised package holidays is not something that anyone can do in Evolution Travel, well, you were absolutely right.
The reason is simple: first of all, you have to prove with your experience and your sales to be a good Consultant.
That is, you need to be capable of providing high quality consultancy:
fully understanding and interpreting your customer's needs
finding the best solution for them
proposing the best tour/accommodation/holiday
earning the customer's trust.
There is more: you will have to follow a specific training course on how to sell personalised holidays, after which you will be Evolution Travel certified.
You need to prove objectively that you are able to organise and build personalised package holidays.
The holiday and the enjoyment of our travellers depend on us and so we want their holidays to be truly perfect. Rewarding, faithful to their wishes, charming, unique, personal, safe.
We aren't allowed any errors: this is the most important part of our work.
What matters, so, is not the method chosen: it is the proven ability to build a holiday piece by piece, organising all its details.
You will be able to do it even working on the Smart workstation.
If you have more specific questions, contact Evolution Travel Recruitment department: you'll get all the answers you need.
Precise information, unfiltered, no "hearsay".
By Stefania Bochicchio